CALL US TODAY
760.809.3069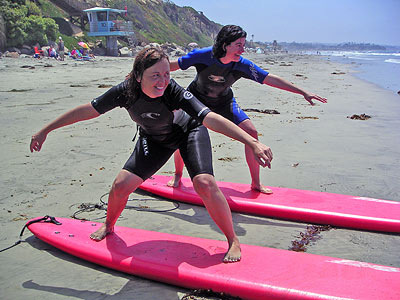 Eli Howard offers its students a two hour semi-private surf lesson for $100. Semi-private lessons follow the same proven format as our group surfing lessons. With a two-to-one student to instructor ratio there is more time for direct coaching from the surfing instructor, and the opportunity for more attention and feedback.
Semi-private lessons are ideal for couples, friends, and a parent with their child, who want to have the instructor all to themselves. Semi-private surfing lessons are available seven days per week, year-round with very limited offerings in the peak summer season to insure the highest quality lessons.
As with all our surfing classes, full-length wetsuits and big, stable soft surfboards are included. Just bring your towel, swim trunks and sunblock.
Call 760-809-3069 to reserve your private lesson today!
Semi Private Surfing Lessons
Available year-round, 7 days per week
2 Hour Classes begin at 8 a.m., 10 a.m., and noon.
2 people at $180
---
Surf Lessons | Surf Camps | Locations | About Us | Praise | Prices | Links