CALL US TODAY
760.809.3069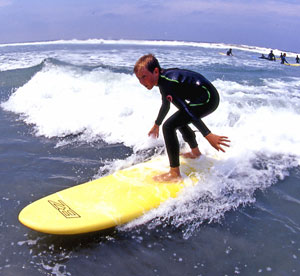 Available year-round, 7 days per week
2 Hour Classes at any time by appointment.
$120 per person
Private surfing lessons offer the specialized attention that helps you to thrive. The private surf lesson format is similar to the two hour group lesson, however, these classes are ideal for those surfers working on advanced skills or those who need one-on-one attention.
A one-on-one surf setting enables the surf instructor to give constant attention to the student, which means more direct feedback and the chance to continually catch many more waves and work in the water area necessary for the skill of the surfer.
As with all our surfing classes, full-length wetsuits and big, stable soft surfboards boards are included Shorter boards are available as well as the options to check out a variety of hard board options for those working on advance skills. Just bring your towel, swim trunks and sunblock. Private surfing lessons are available seven days per week, year-round with very limited offerings in the peak summer season to insure the highest quality lessons.
Call 760-809-3069 to reserve your private surfing lesson today.
---
Surf Lessons | Surf Camps | Locations | About Us | Praise | Prices | Links