CALL US TODAY
760.809.3069

Available year-round, 7 days per week
2 Hour Classes begin at 8 a.m., 10 a.m., and noon.
$75 per person
Group Surfing Lessons are a fun and effective way to learn to surf.
With a student to instructor ratio of three-to-one, Eli Howard's surf school has gained a reputation for the best hands-on instruction, and the quickest and most effective path to catching and riding waves on your own.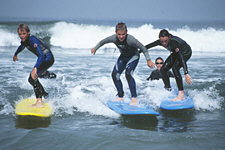 Group surfing lessons cover everything from surfing's basics: carrying your surfboard, attaching the leash, paddling, popping up, and reading and anticipating waves. We cover surf etiquette and beach safety. With our hands-on approach, our instructors do more than just demonstrate. We are right there in the water with you, helping you with every step of the way, constantly giving tips, making adjustments, and providing invaluable feedback.
Group classes are especially fun with a group of friends, family, co-workers, and others. Bring your friends, or make new ones who are also starting out in the wonderful sport of surfing. Most students get to experience the thrill of racing towards shore on a wave during their very first lesson. Give yourself the best opportunity to catch and ride waves all on your own.
All of Eli Howard's surf lessons include a full-length wetsuit, and the use of big stable, soft boards that are very forgiving, and make it easier to learn to surf. Bring your sunscreen, towel, and your sense of adventure in this new sport.
Go ahead and sign-up for your surfing lesson by calling 760-809-3069. You'll be glad you did.
---
Surf Lessons | Surf Camps | Locations | About Us | Praise | Prices | Links