CALL US TODAY
760.809.3069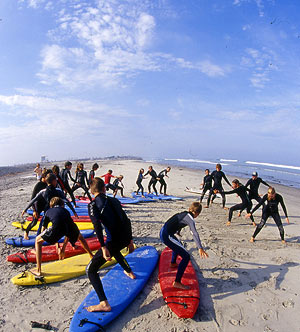 For scheduling all lessons, please call us at 760.809.3069
Non-refundable deposits must be paid to confirm a reservation. The balance must be paid on or before the first day of the lesson or camp.
We accept cash, checks (with ID), Visa and Mastercard.
Gift Certificates are available at Encinitas Surfboards at 107 Coast Highway, just north of Encinitas Blvd, or by calling us at 760-809-3069.
---
Group Classes
$75
2-hr. Group Lessons
- Ages 6 to Adult
- Maximum ratio 3 students to 1 instructor
- Two person minimum group size
- Individuals may sign up (solo classes will not be cancelled, but revert to $85 solo rate)
Semi-Private Lessons
(2 students)
$100 per surfer
$180 per 2 surfers - take a friend or family member!
Private Lessons
$120
per 2 hour class
Moonlight Beach camps
$430 (AM)
$425 (PM)
and up per student per week
(4 hour class per day for 5 days)
$100 deposit required to secure reservation*
---
Surf Lessons | Surf Camps | Locations | About Us | Praise | Prices | Links