CALL US TODAY
760.809.3069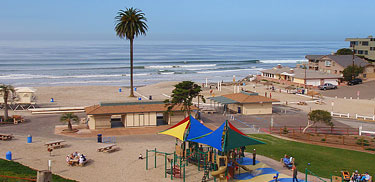 Eli Howard Surf School holds classes and Morning Surf Camps at Moonlight Beach (City of Encinitas) which is located at the end of Encinitas Blvd (B Street). This expansive sandy beach is great for long seaside strolls, swimming and learning to surf. In addition, this location has a playground and summer time snack shop.
Moonlight Beach has a large, free parking lot overlooking the beach. Street parking is also available throughout the neighborhood. Restrooms, showers, picnic tables, and fire pits are available at this beach.
Morning Camps are held Monday-Friday from 8am-12pm all summer long. If you would like to sign up for any of these classes, please call 760-809-3069 or visit the Day Surf Camps page for dates. Group and private lessons available by reservation from 8am-2pm, Monday-Friday.
Directions:
From the 5 Freeway, exit Encinitas Blvd and head west towards the coast. Cross Coast Hwy 101. At the stop sign (3rd Street) turn left. Drive uphill and make first right on C Street. A large parking lot is immediately on the right overlooking Moonlight Beach. Proceed down the walkway to our meeting location on the north side of the volleyball courts and restroom area.
Thanks for choosing Eli Howard Surf School!
---
Surf Lessons | Surf Camps | Locations | About Us | Praise | Prices | Links